Dhammachai Dhutanga Project – The Project to keep Thai custom and tradition
Twenty-five organizations cooperate to arrange the "Dhammachai Dhutanga" Project together to relieve the flood victims' minds and bless the country to be better. Phra Sanitwong Wutthiwangso, Head of Public Relation Division, Dhammakaya Temple, unveiled that Dhammakaya Temple and Foundation initiated by the Most Ven. Phrathepyanmahamuni (Dhammjayo Bhikkhu), the abbot of Dhammakaya Temple and the president of Dhammakaya Foundation, cooperated with 24 associate organizations and 6 flooded provinces as well as Bangkok and its surrounding area arrange the "Dhammachai Dhutanga" Project. This project is to relieve Thai flood victims' minds and bless the country to be better. The activities are divided to be 3 phases.
The first one was over 100 monks meditated and walked at the Grand Meditation Stadium, Dhammakaya Temple, 4 km long, on Sunday December 11th, 2011.
The second one is over 150 monks perform dhutanga, 15 km long, from Dhammakaya Temple past Thammasat University Rangsit Campus, then go to Chiang Rak Road and have a temporary rest at Traphang Temple and finally, they walk to Pathumthani University. They perform this phase on Monday December 19th, 2011.
The last one is during January 2nd – 25th, 2012. Over 1,000 monks perform dhutanga and meditate in the 6 flooded provinces which are Ayutthaya, Suphanburi, Nakhon Pathom, Pathum Thani, Nonthaburi and Bangkok. The total distance is 356.6 km.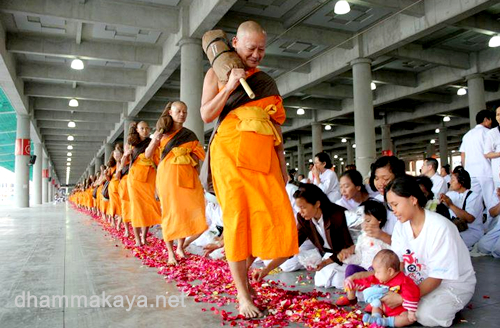 Phra Sanitwong said that when there were big disasters in the Buddha Time in Phaisali city. People had troubled and passed away from the natural disaster, ghosts or cholera, the survivals invited the Lord Buddha as well as over 500 monks to help. The residents cleaned their roads and decorated them with flowers. Because of the Lord Buddha's power, all of disasters ended. The sick people got well and the ghosts went away. King Indra and big celestial beings came to pay homage to the Lord Buddha, so there were blessings happening to all residents. The big flood disaster in 2011 had damaged and made Thai people troubles very much, so the monks, who are joining this project are the real monks, have strong intention to perform dhutanga following the Lord Buddha's way. We do it to relieve the flood victims' minds and to bless Thailand better. On Monday December 19th, 2011, it is the second phase and the distance is over 15 km long. There are over 100,000 congregations, residents and students preparing over 700,000 rose petals to pave for welcome the monks along the dhutanga way. This is to express their respect to the Triple Gems.
--------------------------------------------------------------------------------------------------------------------
For more information, please contact Phra Jiraphat Kittibhatdho, mobile: 085-0976775, Ms. Benjamas, mobile: 081-4503412, or Ms. Anuthida, mobile: 080-5571588. Thank you.